Europe
20 beaches that are hard to believe exist (II)
See Part 1
11. The "darkest" beach in the world, on the island of Maui (Hawaii)
It's called Punaluu, and it's a beach on the island of Hawaii near Na'alehu.
They correct us in comment (Thanks Judith). This beach is in the Wai'anapanapa State Park, on the island of Maui. It is extremely dark sand due to volcanic lava eroded by the sea.
Tony Faiola
jenn
JC Essentials
Courtney Collison
Courtney Nash
Tips for renting a car in 2022 >> From the blog we already manage more than 1000 rental car reservations. If possible, plan ahead as, due to the post-pandemic reactivation, some car rental agencies are in high demand, but the availability of cars is somewhat limited. Select searches preferably from the airport of the cities to find better prices and variety. Find up to 15% discount with this car rental comparator among the best agencies:
Scott
Courtney Nash
van Ort
ted
Skimchee
12. A red beach between giant arches in Morocco
The Legzira beach It is located between Mirleft and Sidi Ifni, in the south-west of Morocco, and has imposing reddish rock arches, with impressive heights that make you feel insignificant when walking under them. They are majestic formations, and fortunately, part of a landscape that is not overcrowded with tourists (yet).
You can see more in A red beach between giant sandstone arches in Morocco.
Ifni95
Dale Harvey
hughes
Dale Harvey
Dale Harvey
13. A paradise between rock walls in Thailand (Railay).
For many, Krabi It is the most beautiful province of Thailand. The combination of its karst mountains (calcareous) eroded for thousands of years by a turquoise sea and dream beaches are difficult to beat. Especially in the area of ​​the railay beach, a small peninsula accessible only by boat due to high limestone cliffs. Isolated and quiet, it is a paradise for climbers and backpackers:
Mark Lehmkuhler
Mark Lehmkuhler
Mark Lehmkuhler
Mark Lehmkuhler
Mark Lehmkuhler
Mark Lehmkuhler
Mark Huber
14. A red beach between the desert and the sea in Peru
In a corner of the Paracas National Reserve in Peru, there is a red sand beach in the middle of an orange desert. The color is the result of volcanic activity after ancient eruptions that hit the Pacific, producing a type of clay with that color as a component of the sand.
You can see more in A red beach between the desert and the sea in Peru
ms.akr
Iker Ender
veronique debord
Jeff Warren
world wide gift
15. A beach connected by a cave in New Zealand
The "door to Narnia" in the film is represented in a natural setting in New Zealand called Cathedral Cove, a curious beach connected through caves.
If you are interested you can see more in Narnia's door in New Zealand
Christian Michael
hjjanisch
Phil Whitehouse
travelwayoflife
Esther Schultz
16. A pink sand beach in Greece.
On Gramvousa Island off the northeast coast of Crete when reaching the Balos Lagoon (Balos Lagoon) unfolds a quite peculiar natural setting: a rocky islet forms part of a cape that is partially linked to the land by a turquoise pool alternated with portions of pink sand. A punctual, isolated, little-known place…
You can see more in A turquoise bay with pink sand beaches in Greece
A+A
Alberto Perdomo
matthew martinello
matthew martinello
Alberto Perdomo
17. A beach between giant cliffs in Spain
the water course Torrent de Pareis It crosses the Sierra de Tramontana on the island of Mallorca through a bed of boulders, until it flows into an intense and transparent blue sea. Between cliffs that reach 200 meters of fall, the narrow passage of the river originates one of the most curious coves in Spain. Is named Sa Calobra cove
See more in A beach enclosed between 200-meter cliffs in Mallorca
m_iha
Miika Silfverberg
Morphs
18. A multicolored beach, in Australia (east coast)
We moved to the east coast of Australia to find one of the most capricious coastal color contrasts:
neilsphotography
Neil's Photography
neilsphotography
19. A bioluminescent beach
Here we are no longer talking about a specific site, but about a natural phenomenon that can occur at any point on the planet where a series of conditions occur. It is not usual, but the phenomenon occurs when millions of microscopic organisms, which are precisely bioluminescent and react when disturbed by the waves. Where to see this natural spectacle? On a summer night when bioluminescent beauty coincides with our luck.
Catalan82
Mike
Ricky Qi
Catalano82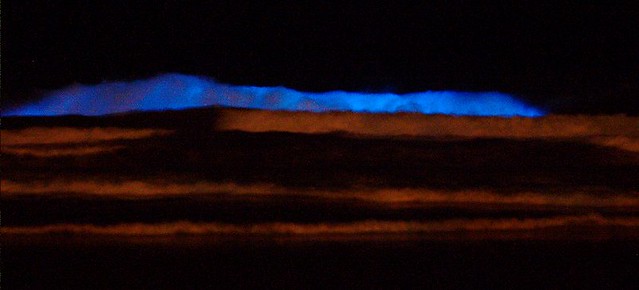 Derek Hoffman
20. A green sand beach in Hawaii
It is called Mahana or Papakolea Beach, famous for its green sand on the island of Hawaii. The beach is a cinder cone eroded by the sea, rich in olivine, a mineral that has parts of iron and magnesium to give it its particular color. The beach is only accessible on foot after a path that leads to the steep descent that leads to the beach.
See more in A green sand beach in Hawaii
Steve Dunleavy
Laura Bacon
Eli Duke
Tiffany Mueller